Struggling to get your cardio in at the moment? This Smart Skipping Rope is an absolute game-changer for those who value their physical fitness, especially if you're having to work out from home or in confined spaces.

The wireless functionally keeps count of each skip and keeps you on track of your fitness goals. It's portable and wireless which ensures there's no excuse to skip out on your cardio.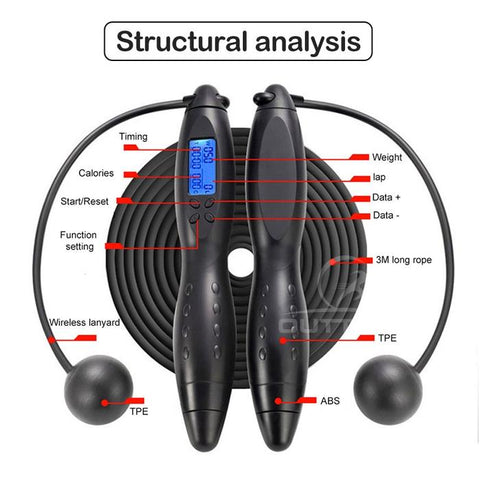 FEATURE(S):
DESIGN WITH DISPLAY SCREEN: High definition accurate digital display show your rope skipping quantity. It is accurate and easy to reset. Assist you to burn fat, lost weight, beauty body, and keep healthy.

CORDLESS JUMP/ROPE JUMP: The creative design allows you to change the mode between Rope Jump and Cordless jump. In cordless mode, you can enjoy the jump wherever you want. Moreover, kids can use this cordless function to avoid to be tripped by the rope

KEEP TRACK: The big LED screen shows a Timer, a Calories Counter, and a Jumping Counter, so you can adjust to get a better calorie burn result. Also, you can set either a time reminder or jumping reminder, to get the target result. The jump rope is electronic calories count skipping, it can calculate the number of jumps and can show to consumer calories.

EASY TO USE: The jump rope has a built-in counter on the right handle that helps you know how many jumps you need for each purpose such as weight loss, burning fat, or body tone. You no longer need to count all the time or lose track! it is accurate and easy to reset. assist you to burn fat, lost weight, beauty body and keep healthy.
SPECIFICATION(S):
Type: Unisex
Material: Rubber
Length: 3m 
PACKAGE INCLUDE(S):
1 x Cordless Smart Jump Rope